My Experience with Sober Travel Retreats
I often get asked, "What is it like to go to a sober retreat?"
I have had many sober retreat experiences and I'm happy to share my feedback.
In this blog, I will be reviewing 3 specific retreats: ​​Brave Recovery Coaching, Sober in the City - Zero Proof Experiences, and SheRecovers Annual Conference. These are three very different experiences with different goals, taken at different points on my alcohol free journey.
Spoiler alert, they were all fantastic. TLDR.
My first ever sober retreat was a female hiking retreat in Sedona, AZ hosted by Brave Recovery Coaching. I was an acquaintance of the host, Carrie May, a Certified Recovery Coach and Nurse Practitioner. I had met two other attendees briefly at a previous local event. I didn't really know anyone and I really didn't know what to expect. I was very nervous because I wasn't friends with any of the attendees. I was basically going alone. I ended up flying and driving with a total stranger. Most of us were strangers. Yikes. Talk about Brave.
(all time favorite photo of my friend Kate and me, by Hayley Haws)
I knew we would be hiking for two days and that's about all I knew. There was a basic agenda, a packing list, and as it got closer, a way for us to connect with each other. I had many questions. I was very anxious about… What to pack? What to wear? Who were these people? What if I hated it? What if I got homesick? What if this was a very bad decision and a huge waste of money? What would I eat? Where would we hike? How could I know absolutely everything to prepare myself before I got there? There is no going with the flow here for an enneagram like me. Aren't I a complete joy to vacation with? Haha!
(photo of Brave Recovery Coaching host Carrie May and me by Hayley Haws)
I was going because this was the exact kind of vacation I wanted. I had few sober friends and felt like I had nearly no friends at all. I needed people and I needed sober people. I wanted to meet people who were interested in the same things as me like hiking, yoga, nature, sobriety, and personal development. I walked away with many new friends, but I am getting ahead of myself here.
I was pleasantly surprised to walk into the most luxurious accommodations in the most beautiful setting in Sedona with a private (sober) chef. I was surprised that the chef was a man since I was assuming it was all women, but it was a nice surprise and a good first impression.
We enjoyed getting to know each other around a campfire and a huge dining room table. I assumed everyone else knew each other, but it turns out they didn't. We were all in the same spot. It was very low key and casual. Thank goodness. I warmed up fast. Everything was optional. One woman even stayed back one day from hiking for some time alone. I felt super safe and comfy. I was concerned about not having my own bed, but I did. Everyone did. We shared bathrooms. Everybody had their own comfy beds, lots of space, and many shared bathroom options too. I feel like I had the best roommates, so it worked out in my favor. They have become some of my closest friends and we stay connected daily. My prayers were answered! The house we stayed in was really beautiful. The view from the pool was literal perfection. Magazine worthy.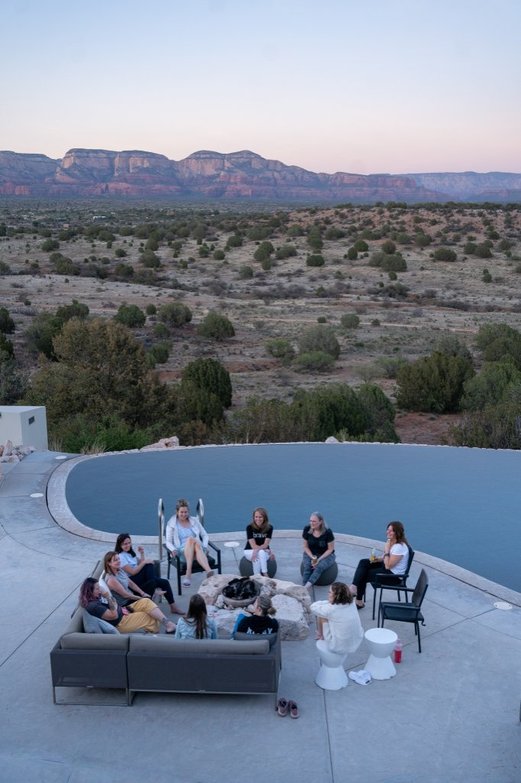 (lux accommodations and amazing view in Sedona, photo by Hayley Haws)
Hiking was the perfect scenario for getting to know people one at a time while walking alongside them. This environment created really intimate connections. I loved being in nature, coming home to instructor-led yoga, and having a delicious dinner with no clean up. It was a real treat. I liked it so much that I joined the next Hiking retreat at Yosemite and recruited friends to join me.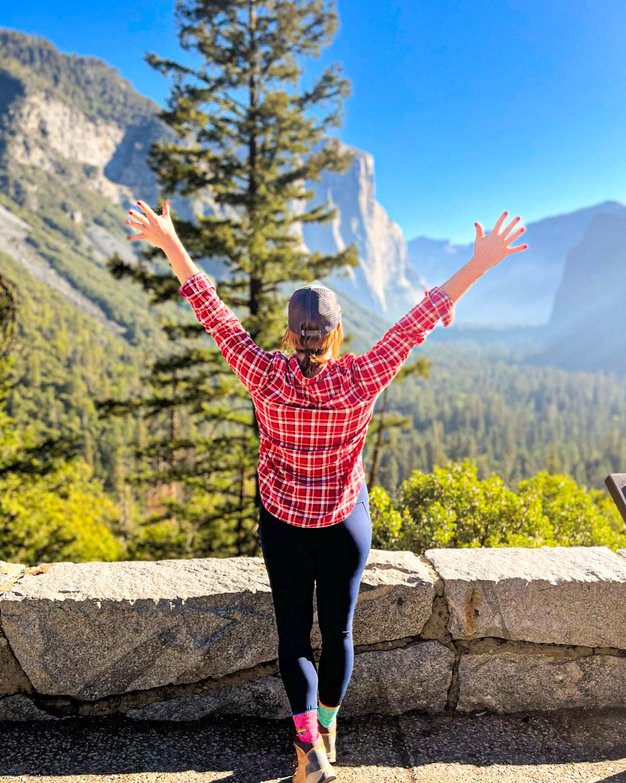 (photo of me in arriving in Yosemite)
Then I attended the following retreat in Zion too with the friends I made from the Sedona retreat. Mission accomplished. I also made new friends too on each retreat. I found and continue to find my people! On ⅔ retreats we had a Professional Photographer, Hayley Haws and access to all the photos. This was incredibly generous. I got some really amazing pictures of the most unforgettable experiences of my life. In Zion we had the most picturesque off site dinner in the middle of the red rock mountains by Chef Jeff Crossland. He's sober too.
(my photo of Chef Jeff)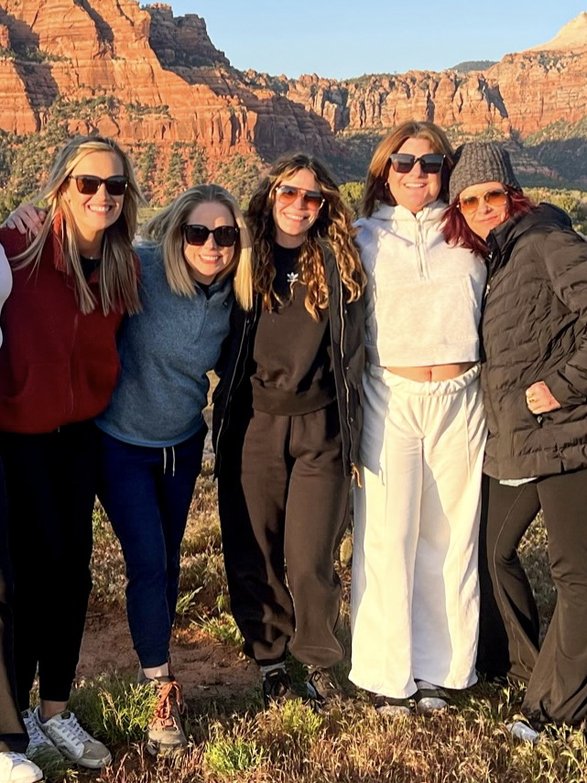 (beautiful offsite dinner in Zion photo by Hayley Haws)
This type of retreat is really intimate and close because of staying in the house together and hiking side by side. There was little time for anything besides hiking, yoga, eating, sleeping. The 3 days were the perfect amount of time. During each experience, I felt worlds away. I fell in bed so happy at night like a kid who played outside all day without a care in the world. I have always had a positive experience with Brave Recovery Coaching. Each location and group of people are unique. Carrie does an amazing job with all the details and makes you feel so special. She's a great host, very laid back, and I would absolutely recommend it. I will say the hiking can be moderate so you have to have a level of physical health to join. There is no pressure and everything is offered as an invitation, but if you want to get the full experience of hiking there is a minimum level of physical ability required. That being said, you do not need prior hiking experience and women in their 60's and older have attended and accomplished the hikes. I would rate this as the best outdoor adventure retreat! I am huge fan and likely will attend more in the future.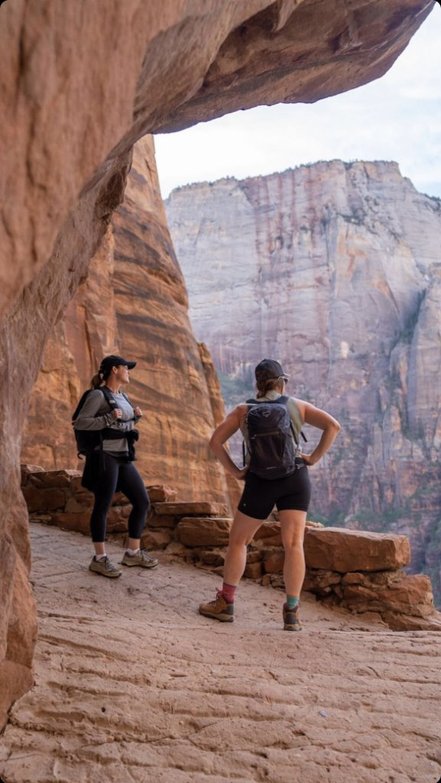 (my friend Jennie and me in Zion, photo by Hayley Haws)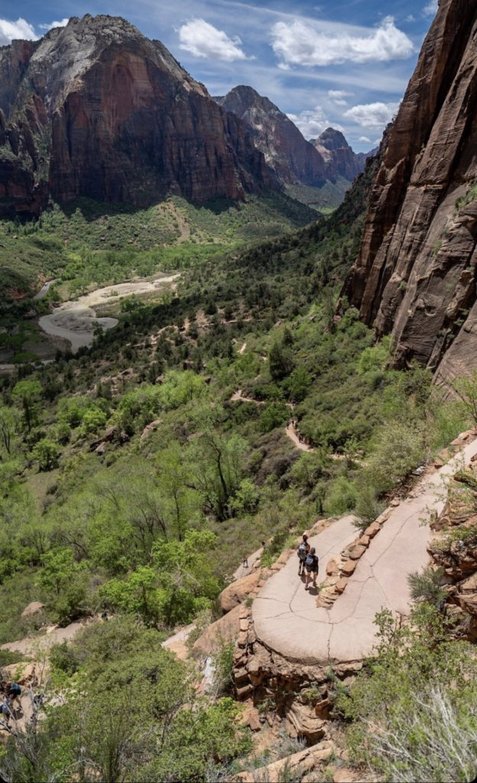 (breathtaking photo of my friend Natalie and me in Zion by Hayley Haws)
My next sober retreat opportunity was in Palm Springs last February with Sober in the City - Zero Proof Experiences. I was invited to speak on Friday night of the weekend event. After my initial speaking engagement, I joined in on all the activities like a regular guest. I roomed with a friend of mine, Amanda Founder of Okay Yeah Design so I was not alone. (I met Amanda at the Yosemite Brave Recovery Hiking Retreat). I had a handful of clients join me as well. Other than this friend, I had never met anyone else in person before. I had gotten to know (and love) the hosts Susie and Peggi online. I obviously adore my clients and knew them really well but this was also our first in person meeting. I loved this event so much that I will be doing it again in Tampa this February. As a presenter, I wasn't sure if I would partake in all the activities as a guest, but I ended up loving it all. I participated in everything it all alongside my clients. There was nothing I wanted to miss! I was lucky to know people but there was a solo social (that I accidently I crashed) for anyone who came alone. I thought this was a great touch and an easy way to make a friend. It was hosted by Peggi and she is so immediately likable everyone felt right at home with her and each other.
(photo of Palm Springs hotel at night taken by me)
(me and my friend Amanda with nightly fireside chats in Palm Springs at Sober in the City Event)
Friday night we had an invitation to wear white. I loved getting dressed up and then heading to the meeting room where I was going to present. There were fancy tables filled with alcohol free drinks like Gruvi, Joyus, H2OPS Water and more. It was so refreshing to know that I could drink all the drinks without worry because all of them were alcohol free. It was wonderful to have an opportunity to dress up and socialize authentically in a room full of people who were all alcohol free. This is the most amazing experience and I hope every sober and sober curious person will have a chance to experience it. The room was bursting with energy, laughter, and conversation. No worry that anyone or anything would get out of hand because everyone was fully present. Dreamy for a sober gal like me.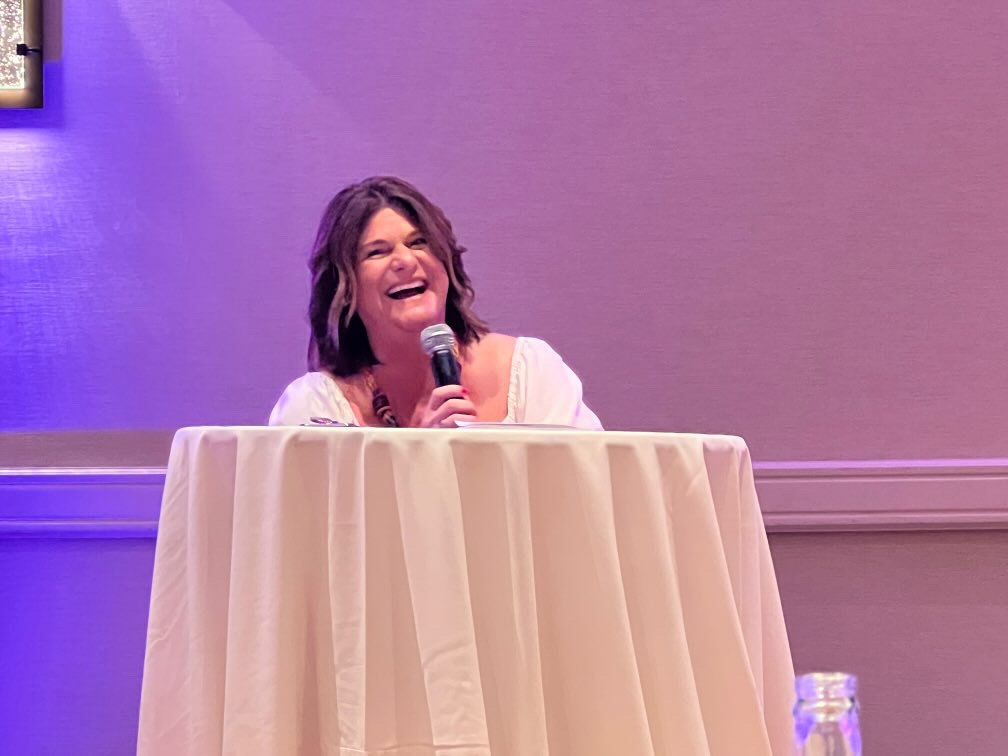 (photo of me on the Friday night panel roasting Peggi Cooney in good fun taken by Amanda)
The next day I took in every single workshop there was to offer. All of them were stellar. There was yoga, a sound bath, a journal workshop, an engaging and hilarious sober sex chat and more. The evening ended with a wine paired dinner and a wonderful keynote speaker, my very own writing coach and queen Ann Dowsett Johnston. Sunday offered brunch, a zero proof mixology class by Clarity Lounge and more. There were options for pickleball, hiking, hot tubbing, and more. It was a wonderful weekend full of connection. A really fun and well done event that I highly recommend. I would rate this as the most fun retreat with a variety of options to make it your own. Great way to unwind, release, and have fun all elevated and alcohol free! This retreat is for everyone and not just women. It was a really great time and I am looking forward to returning.
(selfie in Palm Springs Saturday night dinner)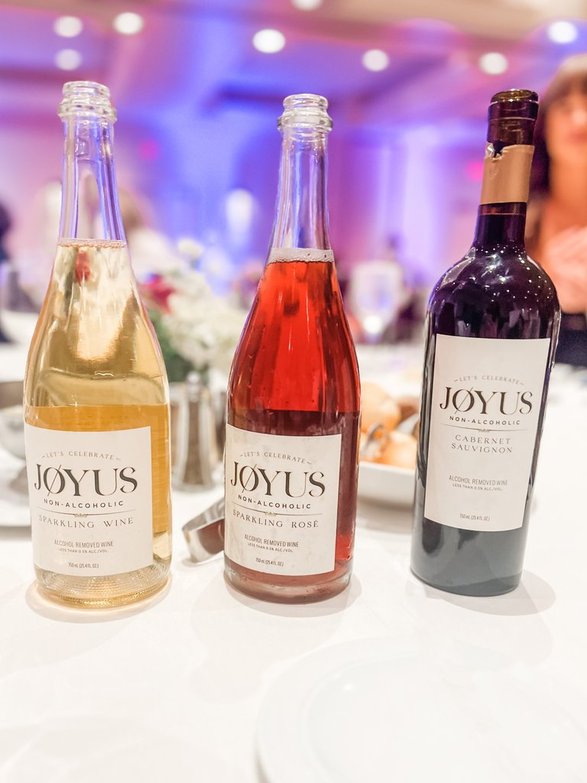 (the Joyus wine at our table in Palm Springs alcohol free wine paired dinner)
Finally, the most recent event I attended was SheRecovers Annual Conference. I have wanted to attend this event. Ever since the first one in 2017 which was before I was even sober, but was very sober curious. The guest speakers are always people I really admire, so that's the draw. The event is expensive and as a new coach just starting my business I could not afford it. This year when it was hosted in Chicago. I could finally attend because it was local to me. I didn't have the additional expense of airfare. In addition, I worked part of the event as a partner for the International Association of Professional Recovery Coaching, one of SheRecovers coach certification partners. The event was located in the historic Palmer House Hilton Hotel. I roomed with my roommate from Brave Sedona (and Zion!) We even got matching pajamas for our weekend long recovery event for women only.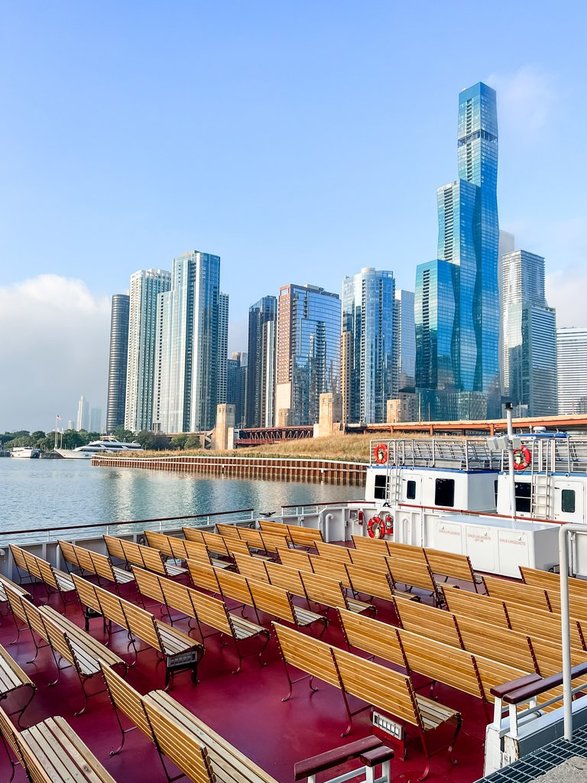 (early morning walk and view of Chicago, photo by me)
The mornings offered yoga, lakefront walks, or The Phoenix (a sober fitness community) workout classes. The afternoons had mingle and market, buffet lunches, and some of the most compelling speakers and workshops I have ever had the privilege of hearing. Meghann Perry was the genius instructor who taught amazing storytelling. I was absolutely moved by the strength of these women and the stories they had to share. One example was Stephanie Chinn was a younger generation speaker and artist that moved me to tears. The energy of the entire event was warm and welcoming. I co hosted a kickoff event with Carrie May, the host of my first retreat who has now become a friend. We filled the room with Chicago AF a local not for profit sober community and more friends plus friends we haven't met yet. This was a wonderful way to ease into the full conference with some meet and greets in a smaller setting. We also wanted to create an option for others, like me, who could not afford the full event but wanted a glimpse inside SheRecovers.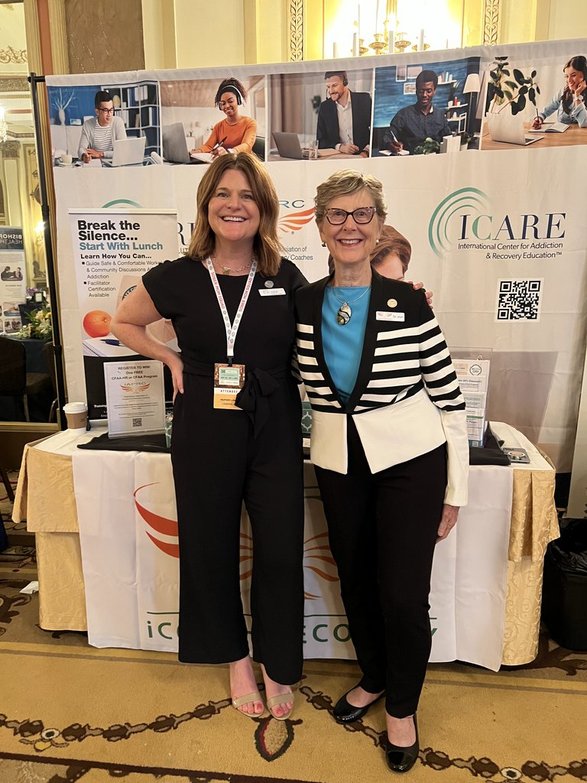 (me and Dr. Jean in our International Association of Professional Recovery Coaches booth)
SheRecovers was in Chicago in April of 2019 for a Creating Connections evening event. That was my first ever sober event. I went alone and I was terrified. I left with one friend.
This time I was surrounded by friends. I knew many people either from real life meetings, or online. I felt like the most popular gal in the room. A huge turn around from my first scared and lonely retreat just a year or so ago. I am now connected more closely with Dawn, the co-founder of SheRecovers, after that wobbly first meeting in 2019. I have recently become a SheRecovers Certified Coach which means I abide by the SheRecovers Intentions and Guiding Principles. I was able to reconnect with a friend who I had last seen on the Brave Yosemite Retreat and of course my hero Ann Dowsett Johnston again. I met so many new people too. The entire vibe was warm and welcoming. You could go alone and you are guaranteed to leave with connections.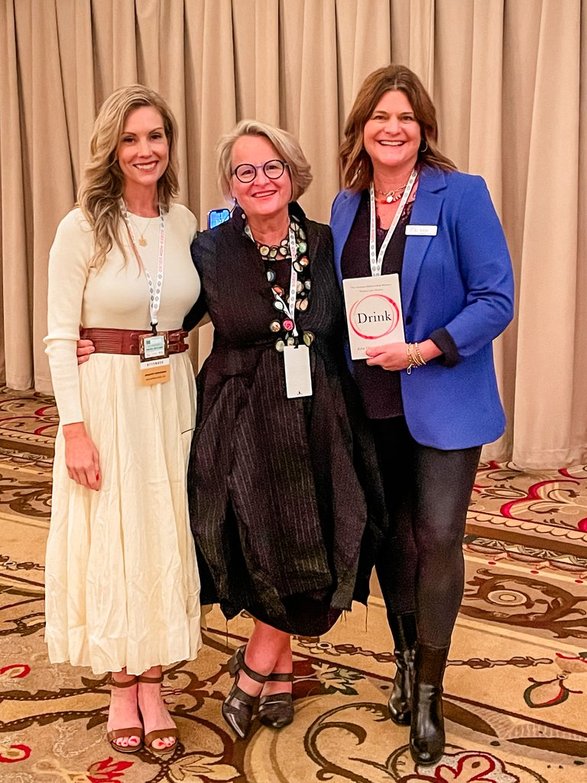 (my friend Jenny, Ann Dowsett Johnston and me)
Saturday night offered the best keynote speaker of all, author Elizabeth Gilbert followed by a silent disco. The whole weekend moved me and changed my identity too. I went from someone unsure about calling myself a person in recovery, to a person proud to be healing from things, many of which are not my fault to begin with.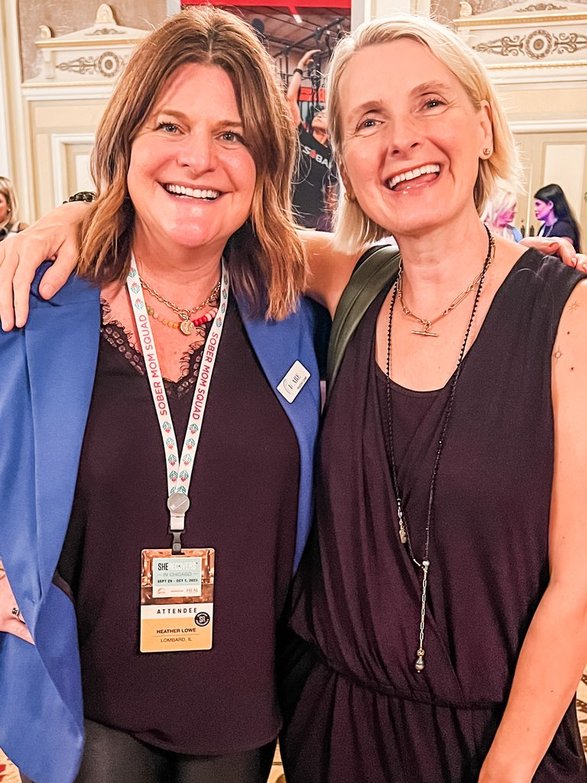 (me and Liz Gilbert. I can't believe it myself)
There are no stronger or more courageous people in the world than the woman at SheRecovers. I would rate this the most healing and educational retreat experience.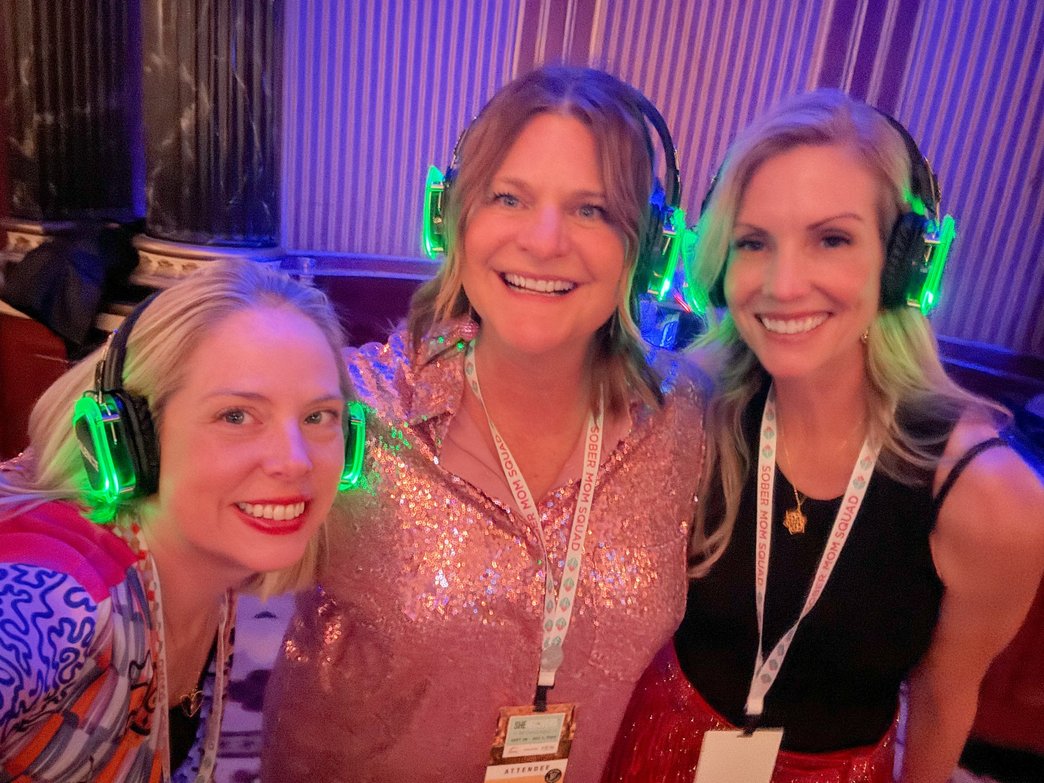 (silent disco selfie with friends)
I joined in on these retreats because I had to put myself out there to meet real life sober friends and it worked. I love dining, dancing, hiking, yoga, learning and more. I have found like minded people to do this with. I love the alcohol free experiences these all offer. I especially love the alcohol free alternatives offered at Sober in the City - Zero Proof Experiences. I know it's not for everyone and it was maybe not for me at first either, but now to be all dressed up, in a room full of people, sipping my alcohol free wine and connecting with other like minded souls is my dream come true.
If you are considering a sober retreat experience, I can't recommend it enough. I believe the upcoming Brave Retreat is full since spots are limited. SheRecovers does not plan on hosting another annual conference at this time. I'd love for you to join me at Sober in the City - Zero Proof Experiences, tickets will sell out so grab them while you can. If this isn't the right event for you, I know there are so many other options out there that I haven't tried yet. I say give it a try!
Attending Sober Retreats has shown the value of community and sober friendship. It has solidified my commitment to an alcohol free life. It has brought me so much joy and connection. It has cracked open a part of me. I have been so vulnerable on these retreats and that has helped me heal years worth of damage that drinking had done. It is really hard to put yourself out there, but it has been a huge win on my alcohol free journey.